The struggles of China to quell the public relations disaster that is the Olympic Torch relay are snowballing out of control. Public Relations Rogue
explains
how China made some critical mistakes in understanding the 21st century media machine. This is expected from a nation that never really had to do public relations. The Chinese government controls the media in a way that the Bush Administration can only
dream
. Internationally, China's public relations has been "no comment" for the past 5000 years. I agree with the Public Relations Rogue in that the Chinese have no idea what they're getting themselves into with the Olympics.
After the pro-Tibet demonstrations during the Paris leg of the relay (they attacked a woman in a wheelchair, see photo), there has been
anti-French protests
, which the Chinese have tried to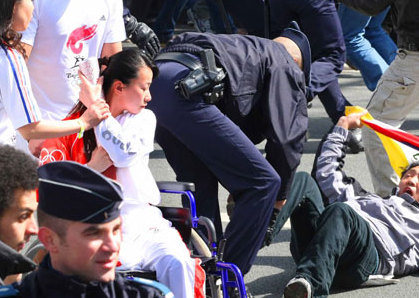 claim as radical, but as with 90 percent of stories from China, you can only take them at face value. They've been controlling the domestic media to think that the world is against them and the Chinese people believe it. Good luck welcoming people to your country with open arms in August.
Therein lies the problem. How does a nation (
or any organization
) gain credibility when it's been so grossly incredible for literally thousands of years?
PS: The top photo is a billboard from Reporters without Border's phenomenal anti-Olympics campaign. The imagery is great. Kudos to that marketing team. Those billboards were all over France.